Camp Lejeune Water Contamination Lawsuit
From 1953 to 1987, the water supply at U.S. Marine Corps Base Camp Lejeune in North Carolina was contaminated with toxic chemicals. These chemicals have since been linked to a wide variety of cancers, chronic diseases, and other serious health conditions. Hundreds of thousands of veterans, their military families, and civilians who lived and worked on the base during this time frame may have been exposed to toxic chemicals in the groundwater supply. Exposure to the toxic water have led to death, illness, birth defects and other life-altering health conditions in both veterans and civilians. To make matters worse, senior military leaders were aware of the water contamination and concealed knowledge of the problem for years.
Until recently, anyone who was diagnosed with a toxic exposure-related health condition after living or working at Camp Lejeune in the specified time period has been barred from taking legal action against the U.S. government. This bar was due to North Carolina's 10-year statute of repose. However, under the Camp Lejeune Justice Act – a new bill that was recently passed by Congress and will be signed into law soon – anyone who has been diagnosed with cancer, Parkinson's disease, or other serious health conditions and meets certain qualifications may be able to finally seek justice for their injuries.
If you lived or worked at Camp Lejeune for at least 30 days from August 1, 1953, to December 31, 1987, and you were later diagnosed with a serious health condition, contact the Camp Lejeune lawsuit attorneys at FrancoLaw to discuss your legal options. You may be entitled to compensation.
For a free consultation to discuss the circumstances of your injury and determine the available legal options, call FrancoLaw today at (888) 213-0761.
Water Contamination at Camp Lejeune
In the early 1980s, the U.S. government through routine water testing discovered dangerous contaminants in the groundwater at Camp Lejeune. Testing found that drinking water sources at Camp Lejeune were contaminated with staggering levels of benzene, trichloroethylene (TCE), tetrachloroethylene, perchloroethylene (PCE), and vinyl chloride (VC), all of which are known to be carcinogenic and/or harmful to humans. From the 1950s to at least 1987, the drinking water was contaminated with chemicals at levels up to 280 times higher than what is permitted by safety standards. Our military and their families were unknowingly drinking water contaminated with these toxic chemicals. During this 34-year period, it is estimated that over one million people were exposed to contaminated water.
Camp Lejeune water contamination sources included leaking underground water storage tanks and waste disposal sites. The contamination occurred at three separate groundwater sources – the water systems of Hadnot Point, Tarawa Terrace and Holcomb Boulevard. The contaminated wells were mostly closed by February of 1985; however, those who had exposed have faced cancer and other serious health problems related to the toxic chemicals.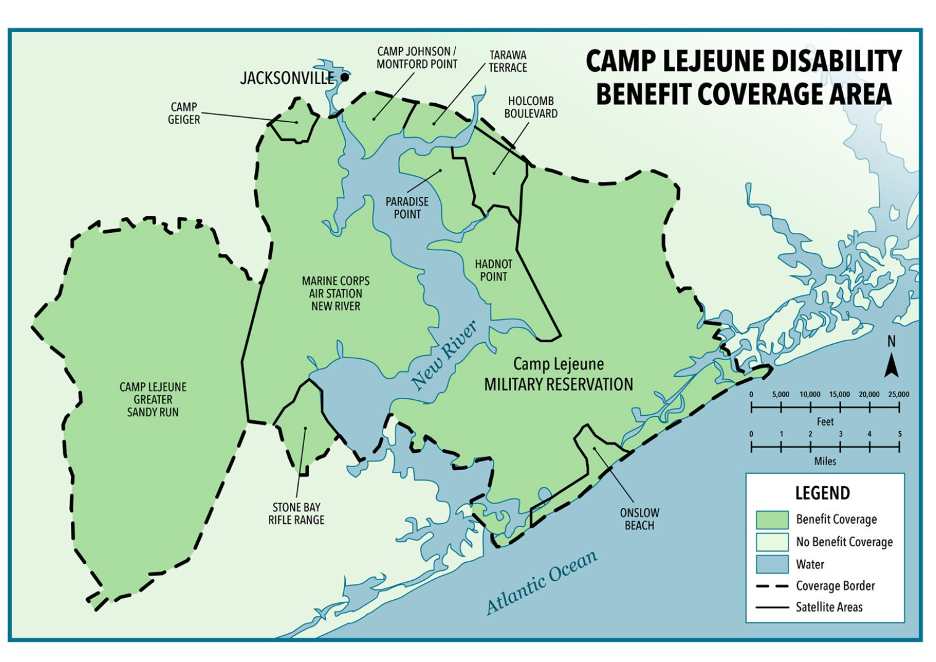 Health Conditions Associated with Camp Lejeune Water Contamination
The Agency for Toxic Substances and Disease Registry (ATSDR), which is part of the CDC, has been performing comprehensive studies on the health risks of water contamination at Camp Lejeune for several decades. Many of the ATSDR studies show clear evidence that the water contamination resulted in higher rates of cancer and death. Servicemembers, their families and others who were exposed to water contamination on the military base have been diagnosed with conditions such as:
Lung cancer
Esophageal cancer
Breast cancer
Liver cancer
Kidney cancer
Bladder cancer
Prostate cancer
Leukemia
Hepatic steatosis
Non-Hodgkin's lymphoma
Multiple myeloma
Myelodysplastic syndromes
Liver disease
Scleroderma
Parkinson's Disease
Neurobehavioral issues
Renal toxicity
Miscarriage
Female infertility
Birth defects
Other health conditions
In the passing decades, scientific and medical evidence revealed a nexus between exposure to these contaminants and the development of certain medical conditions, including cancers, infertility, birth defects and Parkinson's Disease. In response to the growing concerns and the significant number of Veterans who suffered severe health consequences, in 2017, the Department of Veterans Affairs (VA) implemented a disability claims process for certain medical conditions suffered by qualifying service members exposed during the relevant period. While this claims process allowed qualifying Veterans the ability to receive health care, VA compensation and other benefits, it fell short of allowing those veterans, family members, and other affected parties to seek full and fair compensation for their injuries and consequences of the exposure. In part, this was because of the immunity from lawsuits filed by service members that the U.S. government enjoys as a result of the U.S. Supreme Court decision in Feres v. the United States, 340 U.S. 135 (1950). Under the Feres Doctrine, the U.S. government is not liable under the Federal Tort Claims Act (FTCA) for injuries to members of the armed forces sustained while on active duty.
Moreover, non-military exposure victims were legally prohibited from filing claims due to North Carolina's statute of repose. A statute of response is a type of statute of limitations law that says a civil lawsuit must be filed within a certain maximum amount of time, regardless of whether the victim even knows the cause of the injury or death. Because of North Carolina's enforcement of a strict 10-year statute of repose, thousands of victims have been unable to file claims in court. The Camp Lejeune Justice Act removes these barriers and will allow the exposed military, their family members, and civilians to seek restitution from the U.S. government.
Camp Lejeune Justice Act of 2022
The Camp Lejeune Justice Act of 2022 has received broad support in the U.S. Congress and will soon be enacted into law. The Camp Lejeune Justice Act (CLJA) creates a new federal cause of action for anyone exposed to contaminated water at the base for at least 30 days between 1953 and 1987. Victims can now seek appropriate relief for harm incurred due to the water contamination. It includes many provisions to help those injured. For example, it establishes a lower burden of proof than what is traditionally required in toxic exposure cases: Injured parties will be required only to provide evidence of the relationship between their exposure and their harm to establish that a causal relationship exists. The CLJA does not entitle anyone to automatic recovery and claimants need to prove that they were exposed to contaminated water at Camp Lejeune between 1953 and 1987 and that they subsequently developed one of the cancer types or other health conditions that have been linked to the water contamination.
Claims must be filed in the Eastern District of North Carolina, and any remedy brought under this new provision would foreclose other remedies. Like other claims against the U.S. government, no punitive damages are available, and claimants must first pursue an administrative remedy. There are also mandatory offsets for any recovery by the Veterans Administration, Medicare, and Medicaid to ensure that claimants cannot recover the costs of their medical expenses twice.
Once the legislation is enacted, injured veterans, their families and civilian employees will have two (2) years to file a claim or 180 days after an administrative remedy is denied under 28 U.S.C §2675. The bill expressly states that no otherwise applicable statute of repose will apply to claims filed under CLJA. The bill also specifically forbids the government from asserting immunity under the FTCA.
Who is Eligible to File a Lawsuit?
Any person who lived or worked at Camp Lejeune for at least 30 days between the dates of August 1, 1953, and December 31, 1987, and was exposed to contaminated water, is covered by the Camp Lejeune Justice Act. This legislation provides for more than just military personnel that may have been exposed to these toxic chemicals, including:
Family members living on base
Civilian staff and employees
Babies in utero;
Families of deceased
Justice may now be served for the generations of brave men and women who served our country and their families who were unknowingly exposed to contaminated water at Camp Lejeune.
Contact Us Today
If you lived or worked at Camp Lejeune in Jacksonville, North Carolina, for a period of at least 30 days between August 1, 1953, and December 31, 1987, and you were later diagnosed with one of the health conditions above, you may qualify to file a lawsuit. You can discuss your case with us during a free consultation and receive the legal advice you need to make an informed decision about what to do next. We will advocate for your rights and fight for the justice and compensation you and your family deserve. Our firm is experienced in handling toxic exposure cases and we welcome any questions you may have. Call the a Camp Lejeune attorney now at (888) 213-0761 for a free consultation.